WeInvite's Top 10 Creative Halloween Party Ideas
Spooky fun for adults and kids
No matter how old or young we are, there is something magical about Halloween. Hosting or attending a Halloween party gives us a chance to play a character, adopt a new persona for the night, and have fun with friends and family. We've picked ten of our favorite party themes to share with you.
When it comes to party planning, it's easy to use the WeInvite platform and find what you need, including entertainment, catering, bartenders, decorations, and invitations -- all in one place
Have fun and happy haunting – whether it's virtual or in person, WeInvite can help!
1. Murder Mystery Dinner Party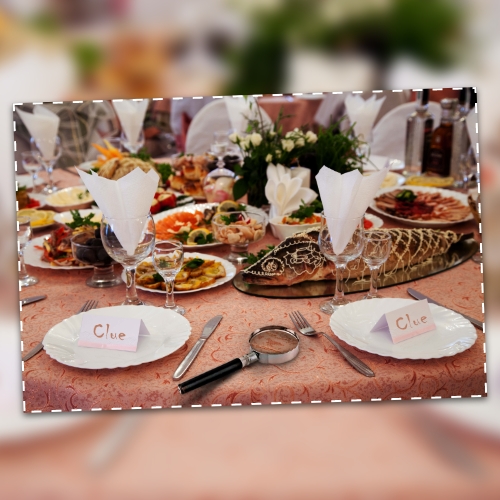 A party designed around conversation and action! Choose your story and guide (we found excellent options by Masters of Mystery). Many mystery kits include the deck, script, audio files, evidence packs, and character descriptions. How about invitations? There are countless e-vites and printed invites on the market; we found some cool ones on Etsy.
What about food and beverages? Consider having a "Pick Your Poison" bar with cocktails such as a Corpse Reviver, a Skeleton Key made with Varchas or your favorite bourbon whiskey. Since this is a dinner party, tie the menu to your mystery's setting or the story. Menu courses can be served between story scenes to encourage conversation. WeInvite makes it easy to get what you need!
2. Backyard Movie Night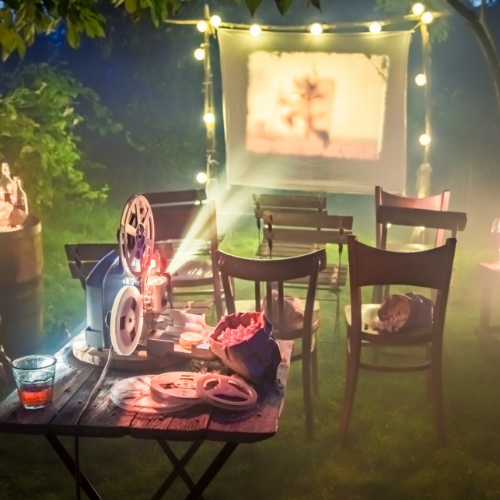 Host friends and family for a backyard movie that's fun for everyone. The film can be a classic, like Halloween, or suited for young kids, like It's the Great Pumpkin, Charlie Brown. An option is to set up hay bales for "theater seats" and serve popcorn, finger foods, candy, and beverages. We found fun Halloween snack recipes on Insanely Good, such as mini-spider pizzas and mummy brie.
3. Halloween Dance Party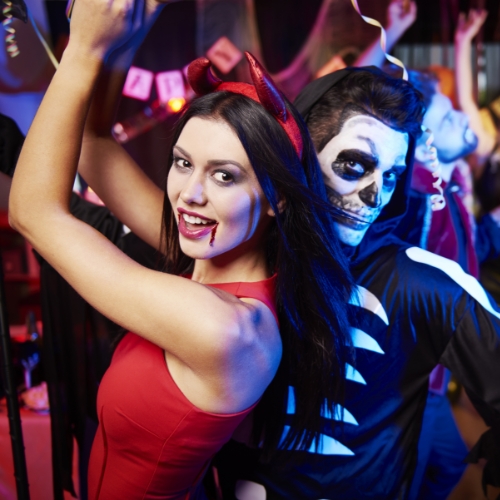 A fun option for adults, tweens, and teens! Set up your laptop or phone and connect to speakers, run a danceable playlist; you have a party waiting to happen! WeInvite can link you with DJs, caterers, bartenders, performers, and more to make the host's work easier. You could incorporate themes, like a "glow party" with glow-in-the-dark party supplies, glow sticks, and more; the kids will be all smiles! For adults, use your glowing supplies for a "Halloween Rave!" More ideas: a "Mad Masquerade" or "Boos and Brews."
4. Zombie Prom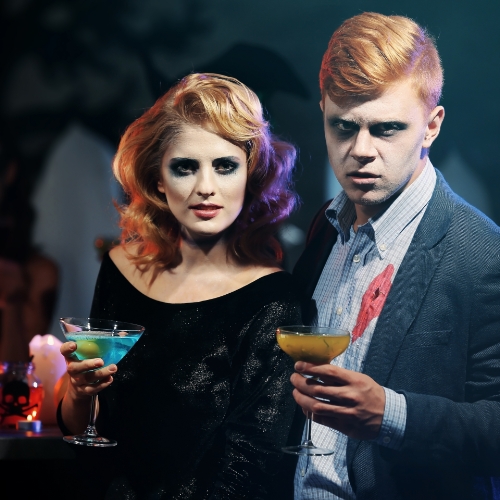 Here's a chance to redo prom – indeed, a night to dismember. Guests come dressed in their zombie best, and the party is popping! Some activities to consider: cocktail making and a costume contest or hire a fortune teller. Using the WeInvite platform is a convenient way to get everything you need in one place.
5. Mystical & Magical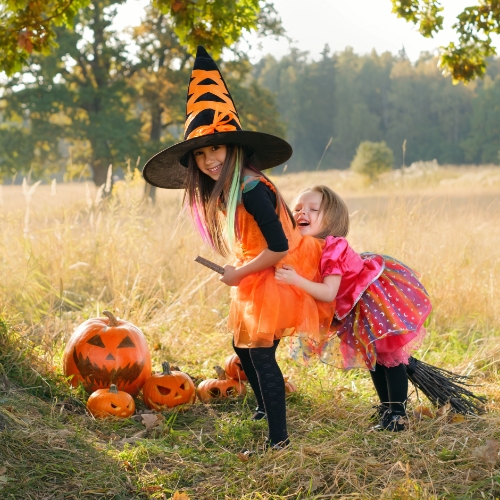 A spellbinding celebration for grown-ups and kids alike with magical fun. Make it an "Enchanted Forest Party" with guests dressed as elves and fairies or a "Magical Unicorn Party" for young kids. Hire a fortune teller, hang sparkly crescent moons and glittered branches, then set the scene with magical mood and enchanting lighting, too!
6. Black & White Party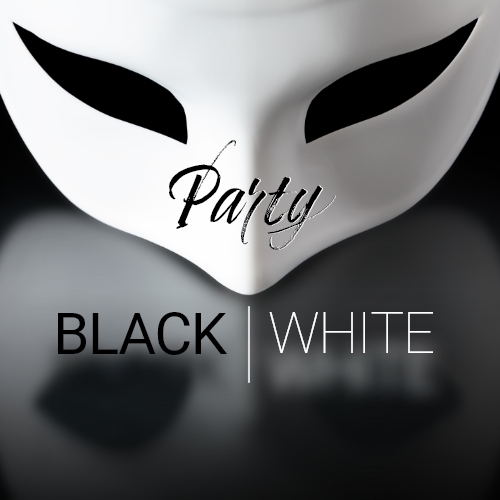 A fun Halloween-y take on a stylish summer White Party. A black and white decorating color palette never goes out of style! Guests can be as fashionable or casual as they want in black and white attire. Are you looking for food ideas? How about some blackberry and white chocolate cheesecake cups, cardamom-blackberry Linzer cookies, black velvet cake, black sushi rolls made with black rice, squid ink pasta, and a Blackbeard martini.
7. Nightmare on the Block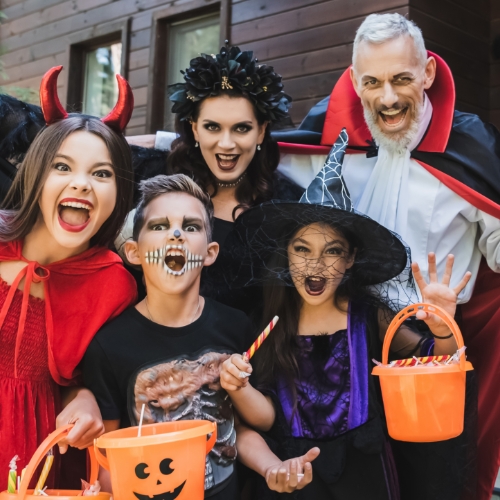 It's a block party and bar crawl with a Halloween theme. Each home has an activity combined with trick-or-treating. Activity ideas: Halloween-style face painting, ghost stories, pet costume contest, spooky scavenger hunt, and pumpkin decorating – the possibilities are infinite!
8. Ghost White Party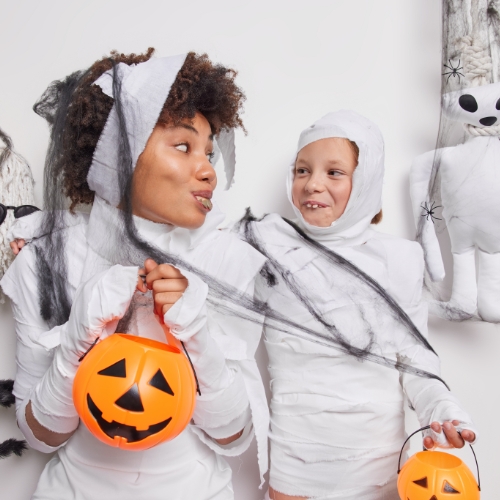 Here is another version of the summer white party to get you in a ghoulish spirit. Decorations can include white table cloths, white pumpkins and gourds, eyeball wreaths, and cutout ghost garlands. Serve treats like mummy-themed cookies and white chocolate fondue. Are you searching for costume ideas? How about angels, mummies, Princess Leia, and mad scientists.
9. Halloween Escape Room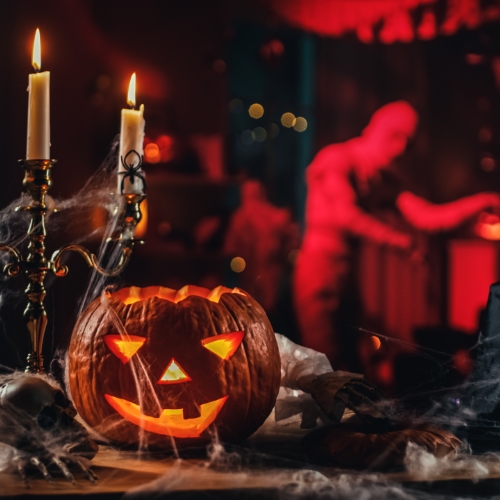 A party for adults and teens, this event could be a trick-or-treat alternative or a thrilling game. You can also host this party virtually on WeInvite!
10. Shocktober Fest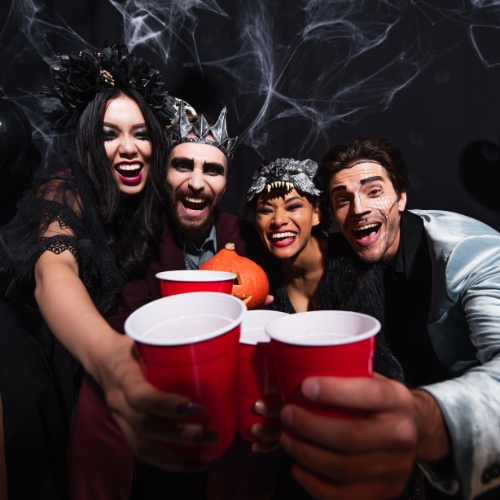 Speaking of escape, this is a way to escape Oktoberfest crowds and party with friends and family. Set up drinks and food with us and have guests dress in Halloween costumes. It's a fun way to maximize October fun! You could even do it big with a band, servers, and caterers. Host it in person or virtually; WeInvite guides the way!